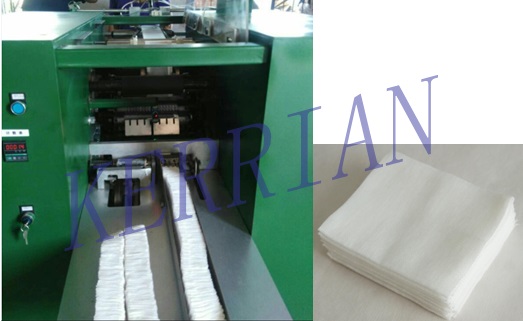 High speed medical gauze swab folding machine,medical gauze sponge folding machine, medical gauze compress folding machine.
This high speed gauze swab folding machine is the latest, compare with the machines made by other producers, this machine has improved performance and more reasonable construction.
To fold gauze swabs 5x5cm, 7.5x7.5cm, 10x10cm -8ply, 12ply, 16ply, with folded edge and open edge, meet both America and Europe standard.
Only need one operator, high capacity.
Low failure rate.
Function of perm x-ray thread can be added on customer's request.
Capacity of machine:
Gauze swab with unfold edge:
5x5cm-8,12 ply 230pcs/min
7.5x7.5cm-8,12ply 180 pcs/min
10x10cm-8,12ply 160 pcs/min
Gauze swab with folded edge:
5x5cm-8,12,16ply 600 pcs/min
7.5x7.5cm-8,12,16ply 400 pcs/min
10x10cm-8,12,16ply 320 pcs/min

The machine can be designed and made on customers' special request. For further infomation, please feel free to contact us.