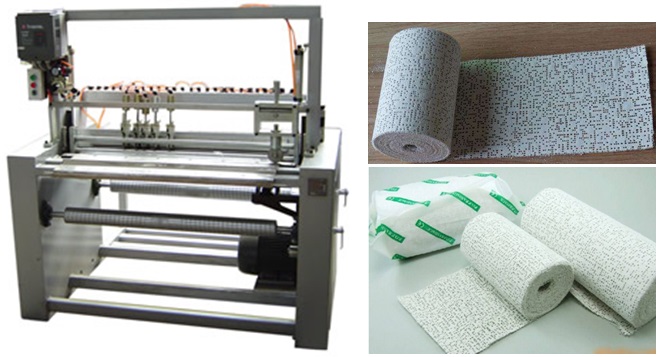 Plaster of paris bandage slitting and rolling machine (POP bandage machine).
To slit, rewind and cut plaster of paris bandage at request size, both of width and length of pop bandage are adjustable.
This machine process the end product of plaster of Paris dressing. the whole process (slitting and rolling) is semiautomatic, it can automatically do unwinding, correction, slitting, count, rolling, start rolling and auxiliary take off the bandage, only installing clamps, push cross cutter, uninstalling roller and clamps need finished by hand, it can awfully reduce laboring intensity and increase work efficiency. In order to increase utilization ratio of suitable for material width dimension,this machine not only can cutoff scrap edge,but also can wind scrap edge,the structure of whole machine is reasonable and simple. From unwinding to slit plaster of Paris material to be bandage, only pass through three axes, so powder falling rate reduce, finished products have good quality.
The machine can be designed and made on customers' special request. For further infomation, please feel free to contact us.