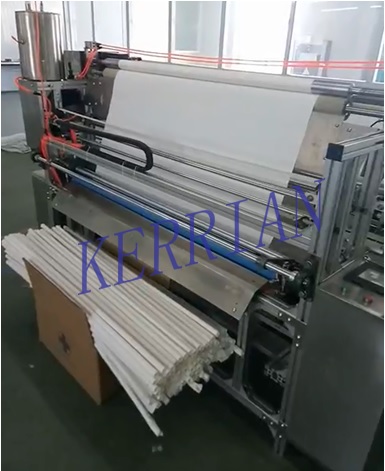 Automatic bandage rolling cutting and wrapping paper machine, bandage paper packing bandage.
This machine is used to cut length of jumbo gauze roll(e.g. width 120cm), then wrap with paper, the cutting length of bandage is adjustable. The whole process adopt PLC control, rewind and take out bandages automatically.
Main features:
1. PLC control, bandage length can be adjusted easily.
2. Count bandage length automatically, automatic rewind, take out bandage.
3. Cross cutter cut bandage length automatically, cutting ends of bandage are even.
4. Automatic tension control, ensure product quality.
5. Automatic feeding and rewinding, taking out core.
6. Aluminium alloy frame, parts contacting with fabric is made of stainless steel or hard chrome treatment, to ensure no pollution to products
Main technic parameters:
Machine size: app. 2400x1800x1200mm, LxWxH
Weight: app. 500kg
Power: 1.3kw
Production speed: 5-10rolls/min.
We can make the machine according to customers' different requests. With or without slitting cutters(cut or not cut width of bandage).