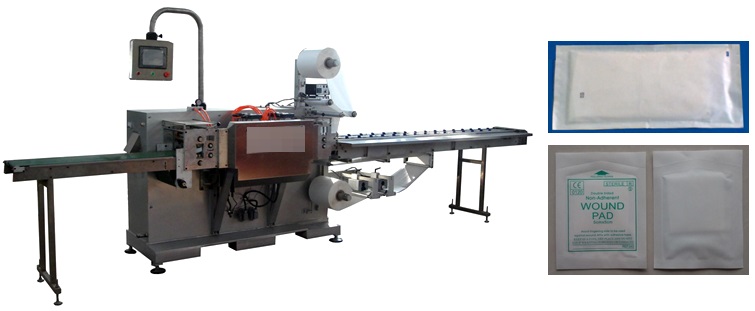 Surgical latex glove outer 4-side seal packing machine,surgical latex gloves envelop packaging machine.
This machine is suitable to pack surgical latex gloves one pair in each pouch, and medical gauze sponges, designed specially to meet stringent medical industry standards, this stainless steel machine ensures genuine safety and hygiene solutions for use in clean room environments. It is equipped with 2 production tracks. It works with various Pre-set width Medical Packing Paper, Blank paper and Plastics Compound Materials or any kinds of thermo-sealable Packaging materials
Technical Parameters:
1. Structure is made up of frames and conveyor belts. It is easy for stream-line production. Imported screwed threaded is used for reliable performance.
2. Any quantity (from 1 to 10 pieces) of gauze sponge in one Peel-open or Tear-open Medical sterilization pouch according to clients requirement.
3. It is equipped with Special Air-exhausting mechanism and Sealing-pressure maintaining mechanism (0.1 to 0.5 seconds). It 100% eliminate the air-Blast abnormality (As a result of Redundant air generated in sealing) of medical packing. So, any flat-type medical disposables products like Condoms, Surgical latex gloves, IV sets, Urine bags, laporotomary sponges, Surgical towels and Non-woven face mask, statures can be packed by using the relevant sealing moulds and changing the Prerecorded program selection by means of tactile display.
Main Technical Specification
| | |
| --- | --- |
| Maximum Sealing Station | 290mm x 560mm |
| Total weight | 1000kg |
| Total Power | 6.4KW |
| Heating Power | 2.4KW |
| Speed | 60-100pouches/min |