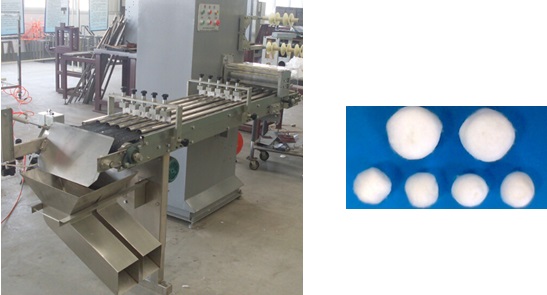 Cotton ball machine, absorbent cotton ball making machine, medical cotton ball machine.
This machine, different from the traditional cotton ball machine, is suitable for rubbing cotton balls with fixed gram-weight from various diameters of cotton slivers. It completes automatically roller in-feed with fixed length cotton slivers, ball shaping by linear rubbing, and counting output.
Specifications:
1. Different from the traditional arced lanes, linear rubbing lanes, of which the rubbing lanes are much lengthened, ensure the made balls in good shape, perfect roundness, and difficult to loose.
2. Counting output avoids manual counting to reduce assorting labor.
3. PLC control and step motor drive achieve the uniformity of the in-feed gram weight, convenient and accurate weight regulations. It also works to comb and stretch the cotton slivers. For example, from a 5g/m cotton sliver, cut down 5cm, comb and stretch it to 9~10cm, then rub it into a ball.
4. Several shaping rubbing lanes to improve the production volume.
Technical Features:
Capacity: For 4 lanes, 4×30~150balls/min
For 6 lanes, 6×30~150balls/min
Balls diameter: set through different section diameter of the different rubbing lanes.
Balls gram weight: 0.2~3.5g/ball.