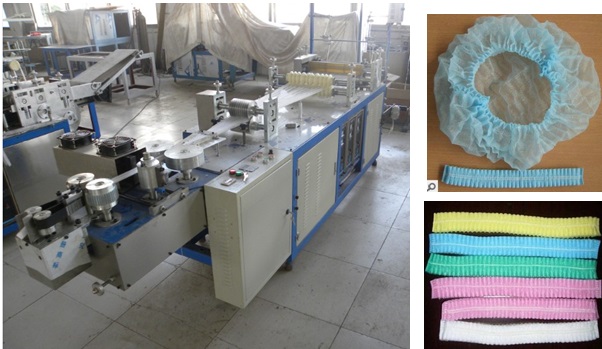 Disposable nonwoven cap making machine, disposable cap producing machine.
This machine is suitable to produce disposable strip cap, products for hospitals or clean industries. The machine is stainless steel structure, independent electrical control box, only need one person to operate, from feeding to the shape, count, collect complete automation and control, the maximum production is 160 pcs/min.
Main features:
1. stability, performance, low failure rate
2. Stainless steel construction, the independent electrical control box, machine real close, off a small plot
3. All parts chrome plated surface, covering parts of stainless steel, beautiful and clean
4. Adjustable ultrasonic welding
5. Changing a machine, replace the cap strip mold can produce a variety of specifications
6. Automatic counting
7. Fracture / broken ribs automatic shutdown protection

Main parameters:
Adapt materials: non-woven (9-10g/m2)
elastic model (30 -40 bar yarn package No.)
Cap Size: 18'-24 'single bar / Double Rods
Production speed: 0-160p/m.
The thickness of the material, the best control at 90-120p / m.
Rated power: 3KW
Rated voltage: 220V ± 5%
Dimensions: 3800×800×1100mm(LxWxH)
Weight: about 450KG