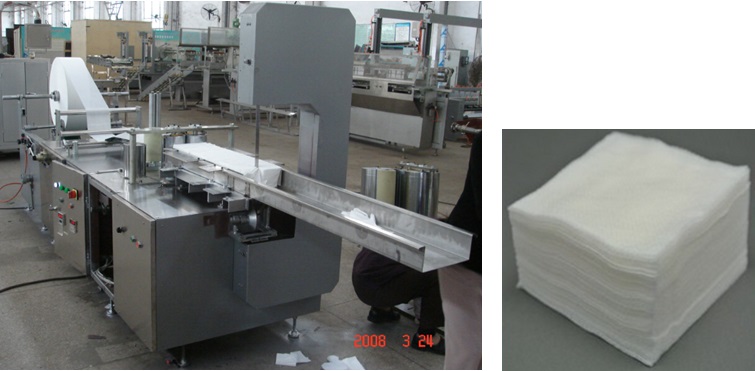 Non-woven sponge folding machine, nonwoven swab folding machine, nonwoven compress folding machine.
This machine is a high speed folding machine used to process medical non-woven dressing sponge. The machine can process sponge specification as 5×5cm,7.5×7.5cm,10×10cm,10×5cm,10×7.5cm,20×10cm and so on, sponge ply can request as 4ply, 6ply and 8ply.
l Main Feature:
a. Adopt open roll tension control technic, width stabilization high, no need adjust by hand.
b. For change specification only need to change machine head. Change machine head easy and credibility.
c. Linchpin part alloy steel, via heat treatment process.
d. Frame configuration, rigidity well, work stabilization high when high speed operating.
e. Work process intuitionistic and perspicuity, reliability high.
f. Adopt Pieces-jump count, reduce count load; can be count in 10-300 pieces limit.
l Technical Parameter.
u Open size: Length: 100~200(immobility)× Width: 100mm~600mm(can be adjust)
u End size: length: 50~100(immobility)× width: 50~100mm(can be adjust)
u Can add perm X-ray function.
u Suitable Material: roller,25-60g/㎡ :Spunlace non-woven, medical paper.
u Material width: ≤Φ1200mm width:100 ~ 600mm。
u Material core diameter: Φ 76.2mm (=3")。
u Speed: 200~240 M/Min。
u
Power: 3.2kw。
u Weight: 1000kg。
u Figure dimension尺寸: 1500mm(H)×800mm(W)×4500mm(L)