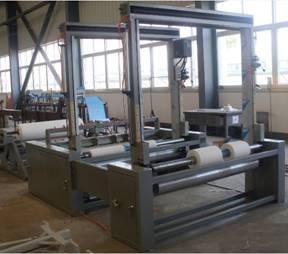 Nonwoven slitting and rolling machine,non-woven cutting and rewinding machine.

It is suitable for slitting and cutting low tension 20~120g/m2 Spunlace non-woven material. Employing PLC control system, frequency control, 3-phase alternating- current motor, and automatic tension controller, the machine automatically completes un-winding, towing, tension adjusting and rewinding, with neat cutting edges.
l Main Features and Functions
a. PLC control system and frequency control conveniently adjust speed within a large range.
b. The automatic tension control system, adopting imported elements, responses sensitively, responds fast, and stabilizes tension control. Fabric fluctuates less. The basic tension value can be set up. Suitable for control tensions with different gram-mass of spunlace non-woven.
c. Adopting Italy technical, the tool setting of linked pneumatic slitting cutter is simple and reliable. The end face of non-woven roller is orderly. The width of slitting can adjust very conveniently. The cutter adopting alloy steel quenching, has big diameter (∮140mm) with perfect service longevity.
d. Adopt double-cylinder rewinding, moderate degree of tightness, also adjustable to the rewinding degree of tightness, suitable for large diameter material.
e. Unique pneumatic rolls loading and unloading device, improves significantly the safety for workers, decreases labor intensity.
f. Monitoring is easy at working time for the open style of the structure layout.
l Main Technical Specifications
| | |
| --- | --- |
| Working speed | 30-180m/minute |
| Frequency converter power | 3.7-5.5KW |
| Motor power | 3-3.7KW |
| Slitting material width | 1-3M |
| Slitting material specifications | 18-120g/m2 |
| Rolling diameter | 400-1200mm |
| Slitting width and end face neatness | <±2mm |