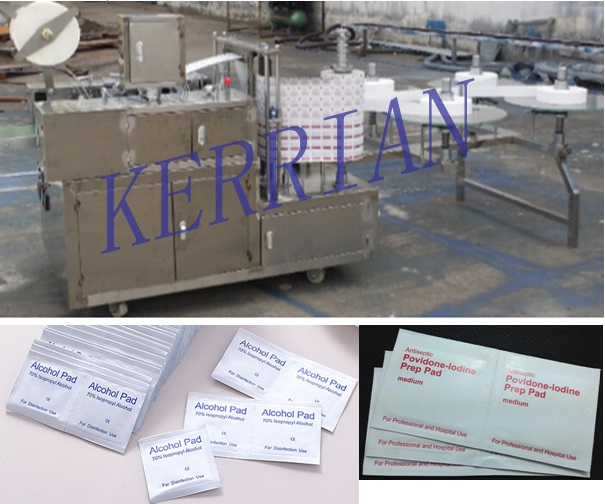 Alcohol Swab Making and Packing Machine, Alcohol prep pad machine, Povidone iodine prep pad making machine.
This machine is suitable to make and pack alcohol swab automatically.
Work flow:
4 nonwoven rolls and one packing film roll – folding lengthways – cross cutting – adding alcohol liquid – output nonwoven pad – make pouch – packing – sealing – output finished products.
Main features:
1. Advantage of this machine is higher capacity, lower consumption;
2. 4 side seal packing, sealing is firm, no bubbles, precise alcohol liquid quantity.
3. With touch screen, PLC control system;
4. Material can sue nonwoven or wet strength paper
5. Lengthways intelligent photoelectric trademark positioning system
6. Packing film unwinding cross correcting system
Main parameters:
Opened size: 25-35mm * 60-70mm(L*W)
Folded size: 25-35mm * 30*35mm(L*W)
Folding way: lengthways folding – cross cutting
Pouch size: 45-55mm * 45*55mm(L*W)
Capacity: 400pcs/min, 4 output lanes
Packing film: 65-110g/㎡ aluminium paper film
Film spec.: Φ≤400 mm, width≤420 mm, inner core: 76.2mm(=3")
Material spec.: 30-70g /㎡, spunlace nonwoven fabric
Material size: diameter≤600mm, width≤70mm
Material core size: Φ 76.2mm (=3")
Liquid adding type: mensurable, quantity error≤±1%
Total power: 2.6KW, 220V, 50Hz
Machine weight: 1000kg
Machine dimension(app.): 2600*1000*1900mm(L*W*H)