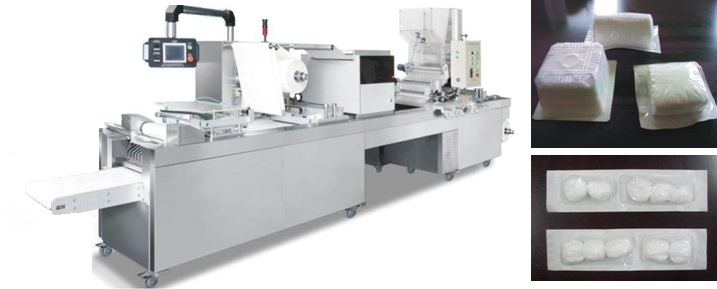 Blister packing machine,thermor former blister packaging machine.
The machine is made for the purpose of Blister Packaging. They are available for both soft and hard film packaging material. They automatically complete the shaping of the packing box, sealing, and cutting. Upon request, vacuum or re-gassing packing can be realized. Bottom film for the to-be-packed---holding and hauling with mushroom head chains---pre-treatment---vacuum shaping in the shaping system---manual or auto stuffing---combining with top film---heating sealing (vacuum pumping or filling Nitrogen can be effected at same time)---horizontal cutting (pneumatic knife for soft film and oil pressure for hard film)---longitudinal cutting (scissoring style)---strips collect)---out-putting with the belt.
The length of the conveyance can be enlarged or reduced, with middle passing over bridge regulable fully considering enough space for manually filling personnel. The whole machine is structured with stainless steel or aluminum alloy, available to the packaging of medical and food products where the requirements for the environment is very strict. Spray marking system is optional. The whole process employs PLC techniques, touch-screen operation with Chinese or required language interface, simple and convenient. Main electric controlled and AC servo motors are of Mitsubishi, Japan, key pneumatic parts are Japan SMC, hydraulic pressing system are Taiwan made, boasting of reliable quality. Packed products are in accordance with American and European standards. They are ideal substitutions for the imported machines, being widely used in packaging industry of healthcare products, medical disposables and super market food. In food industry, the packed products particularly fit supermarkets.
l Specification:
Use for pack: 1.Medical gauze products, syringes, needles and other medical disposable dressing; 2. non-staple food, meat, etc.
Packaging Material: Soft Bottom film: PL/PE or others; Thickness: 0.1~0.3.
Hard Bottom film: PS/PP, Thickness: 0.4~1.0
Outer dimensions: L9m*W1.4m*H2m (length can be set as required.)
Gross Weight: 2000KG
Power Source: 3 Phased AC 380V 50HZ.
Compressed Air: 0.8Mpa
Bottom film width: 400mm.
Working Capacity: 7 to 20 lines/min
Power Consumption: 6KW to 11 KW
l Accessories:
1. Forming die: a. Regular forming die
b. Forming die with pre-heating
c. Forming die with compressed air assistance
2. Heat-sealing die: a. Regular heat-sealing die
b. Heat-sealing die for vacuum packaging
c. Re-gassing heat-sealing die
3.Vacuum pump
4. Dust-absorber for cut strips
5.On-Line Printing machine